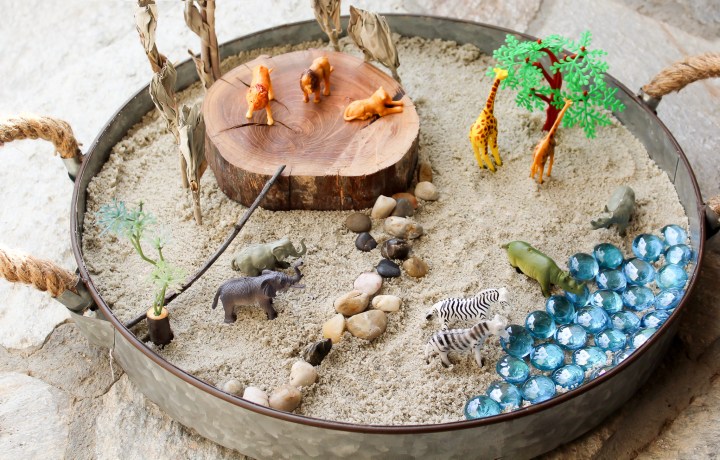 There are some toys that every family should have at home. They are not expensive and not difficult toys to find, even in Bangkok. We have these toys in schools for a reason so if you haven't got them at home already, go out now and create a learning environment at home.
Sensory boxes- Different types of sensory boxes can boost a child's senses and encourage creativity in different ways. Sensory play is vital for scientific and mathematical skill development. Children will collect data related to their senses and learn to make judgements based upon experiences. For our favourite ideas on sensory boxes click here…
Sand and water table- A type of sensory box in itself, sand and water tables aren't only great fun but also perfect for educational development. There are plenty of shops selling these online but they can be a little pricey. The Little Tikes one isn't the strongest, but is okay. Alternatively you can make your own out of pipes and trays.
Playdough- There is so much you can do with Playdough, whether it be artistic, constructive or in support of maths and phonics. But most importantly for young children is how Playdough can strengthen fine and gross motor movements. Found in most malls, inside Robinsons, as well as Toys 'R' us.
Lego- A mainstay of the toy industry for decades now and there is a reason for it. Mathematical and construction skills are learnt from playing with lego and while lego in Bangkok is a little expensive it is worth the investment as it lasts pretty much forever. Other variations of Lego such as Duplo are also just as affective. Lego can be found literally everywhere!
Dolls house- This isn't the traditional dolls house of old. They have become a lot more useful and diverse over the last few years. The traditional dolls house was originally really aimed at girls but now they have been developed to be Unisex. Certainly the boys love playing with our eco-house at British Early Years Centre. This one can be found in most malls and is made by Wonderworld.
Railways- Another mainstay of the toy industry, railways provide planning skills along with mathematical and puzzle solving abilities. Again most malls have these. We bought ours from the kids section at Central Lad Prao.
Role play costumes- Role Play costumes are great for imaginative play. Imaginative play is not only important for creativity but it also gives children opportunities to learn language skills as well. If you find time to play with your child, you can help them develop even faster. Toys 'R' us stock dress up although it can be a little pricey.
Play dolls- Another toy for boosting imaginative play, play dolls are fantastic for language building, as well as teaching empathy and care. There are some lovely dolls in the Kids section of Ikea.
Art box- Every household should have a box of art materials: pens, pencils, crayons, paints, scissors, glue, toilet roll tubes, buttons, cardboard boxes, straws, lollipop sticks, egg cartons and just about any other junk you can think of. Art boxes boost pretty much every skill from motor skills, to maths, to artistic creativity. A must have and so easy to put together.
Small World Play- Fill it with bugs, learn about life cycles, excavate dinosaur fossil; whatever engages your child. Small worlds are a fantastic tool for developing experiences. Again Toys R us, although a little pricey, is the best for this one, but a lot of small worlds can be created at home with a little imagination.