International Kindergartens in Bangkok : Waldorf Schools in Bangkok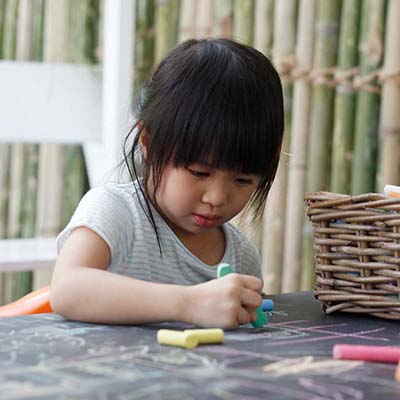 Are you looking for a Waldorf school in Bangkok? If so, you might have to look a little further afield!
What is Waldorf?
Waldorf education was founded in the early 20th century by Emil Molt, the owner of Waldorf Astoria cigarette factory in Stuttgart, Germany. Originally opened for his employees' children the philosophy of the school was developed by Rudolf Steiner, a scientist, literary and philosophical scholar. The curriculum is based on human beings, comprising of body, soul and spirit. It success speaks for itself as it is considered the fastest growing holistic schooling system in the world, with now over 3000 schools. Currently however there are only a few examples of Walford schools in Thailand, let alone Bangkok.
Subjects such as literature, art, theatre, dance are 'experienced' and not just learnt. A Waldorf teachers' role is to generate inner enthusiasm for learning and therefore removing the need for competition and exams. Motivation should be intrinsic.
Waldorf acts to stimulate children to develop their Head (cognitive), their Heart (social and emotional) and their Hands (physical skills) in an age- specific way.
I thought I knew and understood the Waldorf model but revisiting it recently as part of a curriculum comparison project, I realized that I didn't. The more I read created more questions than answers. I decided to call and ask a selection of schools worldwide and see if their explanations could help clarify things a little.
One thing is certain it is difficult interpreting the original Waldorf guiding principles, extrapolating hard and fast rules and direction from the conceptual language used. Having spoken to more than one Waldorf professionals during my research it was evident that other people's understanding and interpretation can vary too. So I would expect to see different interpretations play out across the thousands of settings currently in existence worldwide. In reality, not at all dissimilar to Montessori or Reggio Emilia settings in the way the guiding principles are effectively put into practice.
Here are 5 important things that I have grasped though:
Waldorf schools should create a 'non-academic environment. Classrooms are homely and children help out, prepare food, serve food, wash dishes etc. The idea is that the children, through doing such tasks for their peers or family, learn to appreciate the things that are done for them in life.
Storytelling plays a big part in daily life. Now all schools might argue this case but true Waldorf teachers will tell stories 'by heart' and not from a book, in the way that myths, legends and fables would be told around a camp fire. Eye contact and recounting a story adds realism for the listener and helps storied come alive.
Arts are integrated into all subject areas, whether simply to enjoy and express oneself or to participate in or as a means to connect with and aid the learning of anything from spelling, maths, or perhaps geography. The theory is that if children are fully engaged in a creative activity and expressing themselves individually then they are far more likely to enjoy and remember the subject matter. The theory of incorporating art throughout learning actually runs much deeper on a neurological level and there is substantial evidence to support its use.
The Waldorf teacher stays with their class each year. This isn't the only example of this approach. We also see schools in Finland where teachers remain with a cohort for a few years. There are, I believe, very evident advantages and disadvantages to this. It is a nice concept to keep the person that knows the children best with those children.
However I can think of many examples from my childhood as well as my teaching career where examples of fraught dynamics between teacher and child have not been overcome and the start of a new year has signaled a positive change for both individuals and a time for new teacher-child dynamics to play out. I don't believe it is always the fault of the teacher although most definitely not the fault of the child. But sometimes relationships just do not work well.
There are no text books used in Waldorf schools. Other than Singaporean and traditional Asian kindergartens I cannot think of a modern early childhood approach that does use textbooks. The idea in Waldorf however is that the children make their own books, no too dissimilar to some Reggio settings, based on project work that they do.
So how does British Early Years Centre compare with the Waldorf approach? Are there any noteworthy similarities? If you are looking for Waldorf schools in Bangkok are there alternatives that might just meet your requirements?
Yes there are. There are also a few elements that I can envisage us trialing and a few philosophies that may well become a permanent inclusion.

Our environment is very non-academic and many of the 100 languages that you see the children engaging in, in a Reggio setting are art based, It could be argued that not all children do learn beast through art and some, the more engineer and design minded children prefer to learn through construction. This is where we see the Reggio Emilia approach being more advantage. The freedom that children are given to learn about a project through whichever means 'speaks' to them, in our minds, is an optimal scenario for learning to take place.
Stories aren't told from heart as we cherish the depth of language and imagination of the many revered children's authors which act to support language development, inspire play and sometimes entire projects to be explored. That is not to say however, that there isn't a place for storytelling from the heart. I love the idea and I believe much can be gained through this medium.
We of course use no text books but our children have books in which they are free to record their mark making and writing, draw, design project work, make lists, recount trips, write stories.
Perhaps the most similar aspect between British Early Years Centre and the Waldorf approach is the setting and the importance placed on it bing homey, warm and inviting.
If you are interested in Waldorf education there are limited schools in Thailand. Here are three schools which you may like to check out. Unfortunately there are not many Waldorf schools in Bangkok.
https://www.panyotai.com/en/welcome-en.html
https://steinerschoolthailand.education/