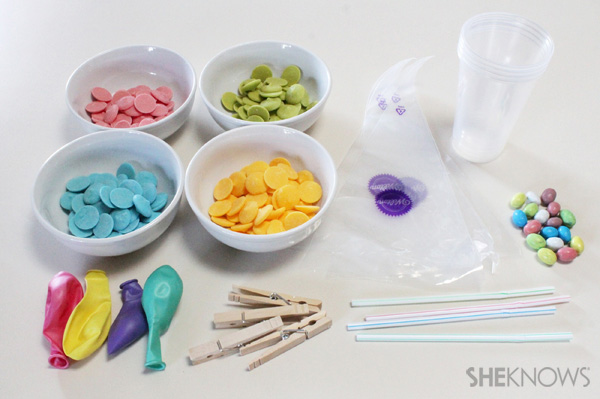 Finding Easter Eggs in Bangkok is never easy and they can be expensive when you do discover them. We have already seem how to make them using moulds but here are some alternatives which are even easier still… so you have no excuse now!
Coconut Cream Eggs
Courtesy of Rainbow Hot Coupons
Ingredients:
8 oz softened Cream Cheese
1 tbsp softened Butter
4 cup Powdered Sugar
1 cup Shredded Coconut
1 tbsp Shortening
2 cup Semi Sweet Chocolate Chips
Directions:
Using a hand mixer, beat cream cheese and butter until blended.
Incorporate powdered sugar and coconut.
Refrigerate for 1 hour or until easy to mold with hands.
Prepare a baking sheet by lining with wax or parchment paper.
Dust your hands with powdered sugar and mold mixture into egg shapes.
Place on a prepared baking sheet.
Place in freezer for 2 hours or until eggs are firm.
Melt chocolate chips and shortening in microwave by heating for 30 seconds then stirring and repeating until melted and smooth.
Dip eggs into chocolate mixture insuring that they are completely coated.
Place back on prepared pan.
Refrigerate until hardened.
---
Hollow chocolate Easter eggs recipe
Ingredients and supplies:
Chocolate
Piping bags or zip-closed bags
Latex balloons
Non-stick cooking spray
Straws or wooden skewers
Clothespins
Plastic cups or glasses (larger than your inflated balloons)
Small candies, like robin eggs (optional)
Directions:
Inflate your balloons to the size you want them. Do not use water balloons or make the balloons too big as the thin latex will burst when you pour on the melted chocolate. Microwave the chocolate for 30 seconds at a time, stirring after each heating until completely melted.
Pour the melted chocolate into the piping bag. Hold the tie of the balloon and lightly spray your balloons with non-stick cooking spray
Next drizzle the chocolate across the bottom of the balloon in all directions. Turn balloon over and continue drizzling chocolate over the top and sides.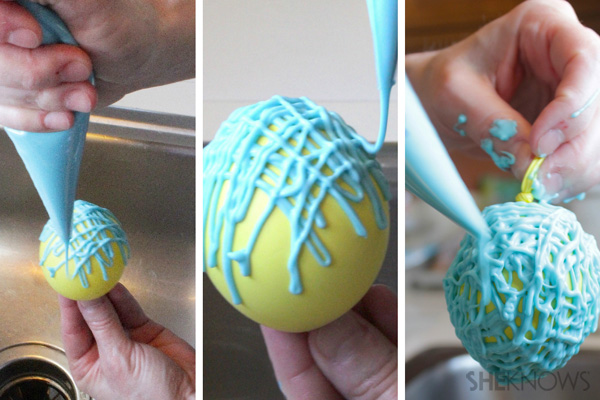 Using a clothespin, clip the balloon to a straw or wooden skewer and balance inside of a cup or glass to dry.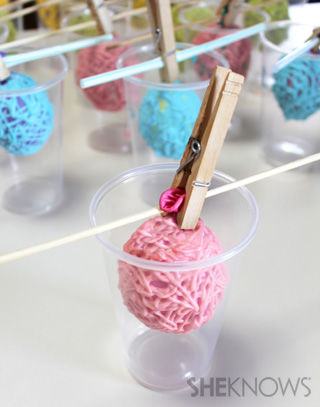 When completely dry, remove the balloon by clipping open the tied top to release the air.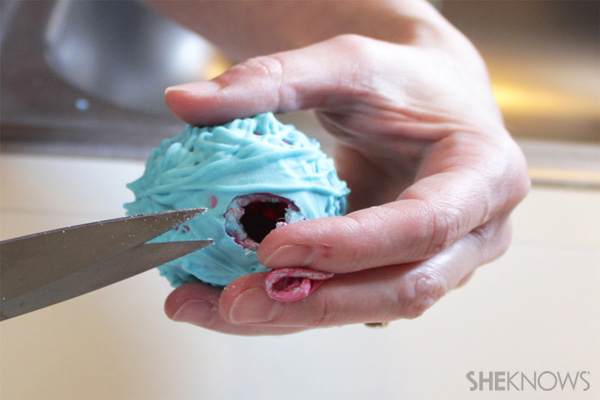 Slowly pull the balloon away from the inside of the chocolate egg and carefully remove.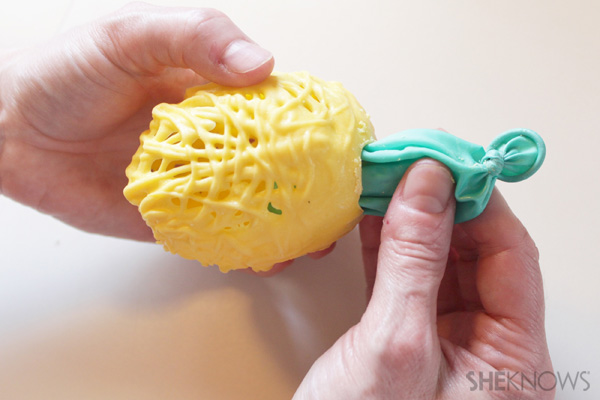 To create eggs with candy inside, put the candy in the balloons before inflating. Keep the candy small because removing the balloon can be slightly tricky.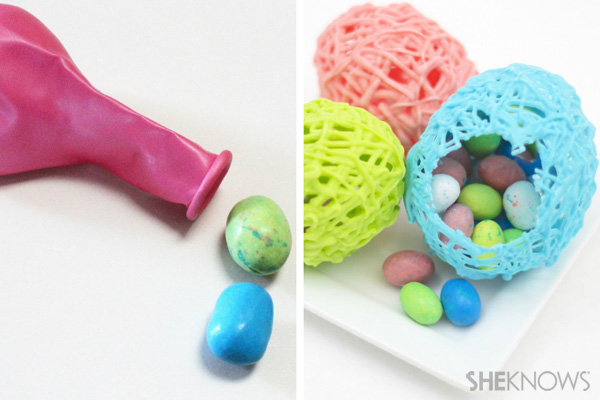 ---
Homemade Chocolate Marshmallow Eggs
Courtesy of butter with a side of bread 
2 packets of unflavored gelatin
2/3 cup cold water
1 cup sugar
1 1/3 cup light corn syrup
flavoring/food coloring
1 packet chocolate
Fill your dish with flour, about an inch thick. The flour will not mix with the gelatin so you can reuse the it afterwards. Use a plastic Easter egg and press into the flour to make the forms for your marshmallows.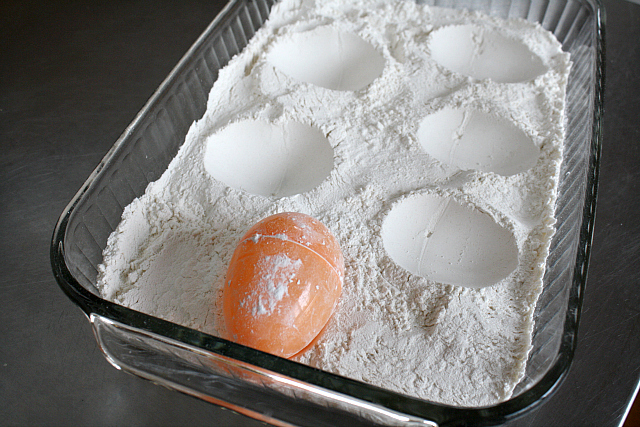 Soften the gelatin in cold water in a saucepan.  Heat to medium-high heat and add sugar.  Stir until dissolved (about 3-4 minutes).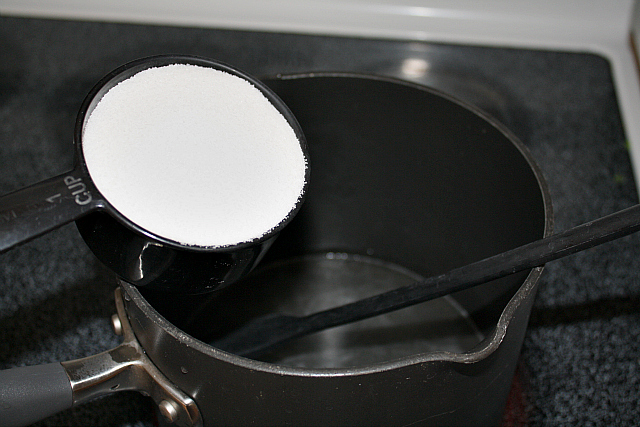 Get your corn syrup ready in a bowl and then pour the hot mixture into the corn syrup.  Immediately start beating the mixture on high speed.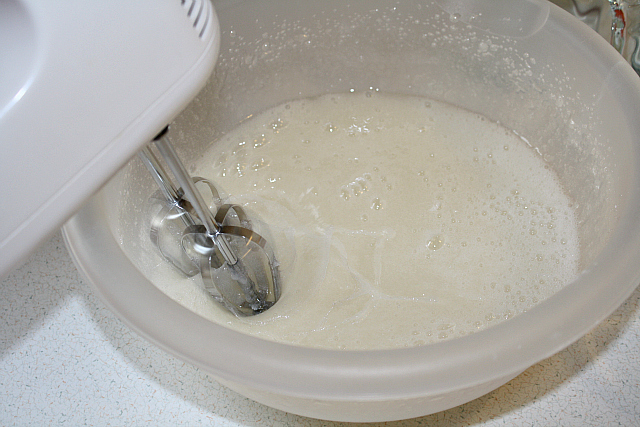 Add flavor and food coloring if desired.  Continue beating until thick, fluffy and air-filled.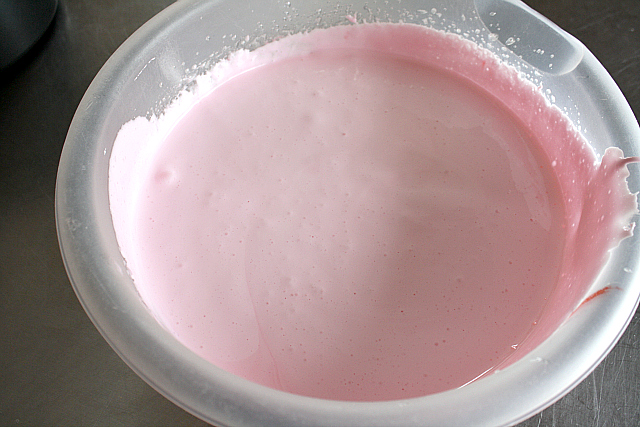 Spoon the mixture into your prepared molds.  When the molds are filled, cover the eggs completely with flour and then let them sit out overnight.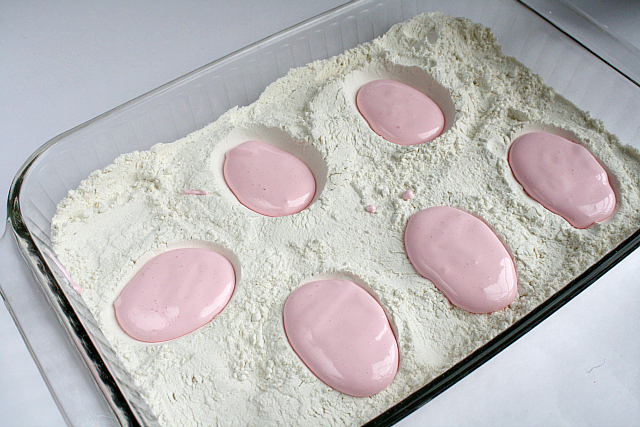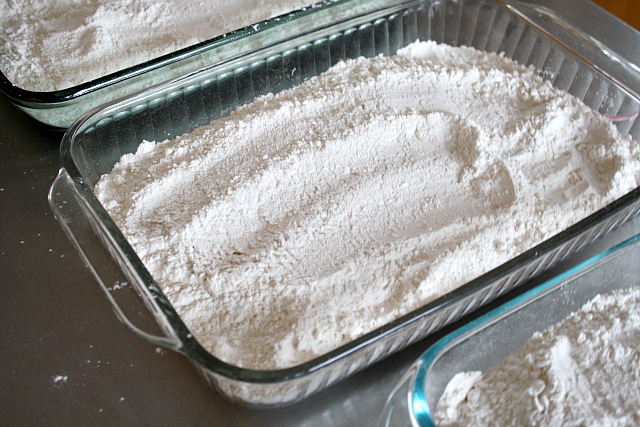 The next day, pull the eggs out of the molds and brush all of the excess flour off.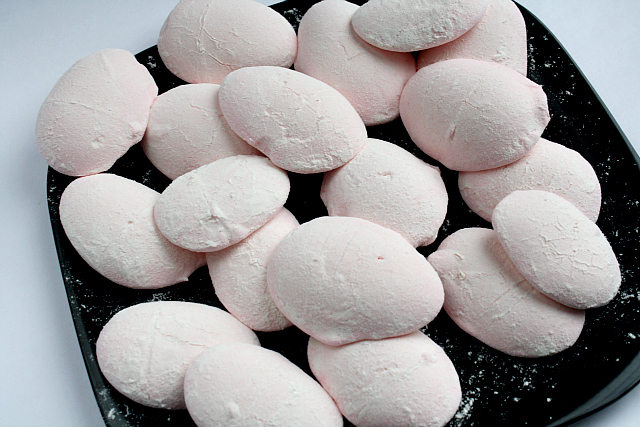 Melt the chocolate and dip the bottom of the egg in. Place the chocolate side down on waxed paper.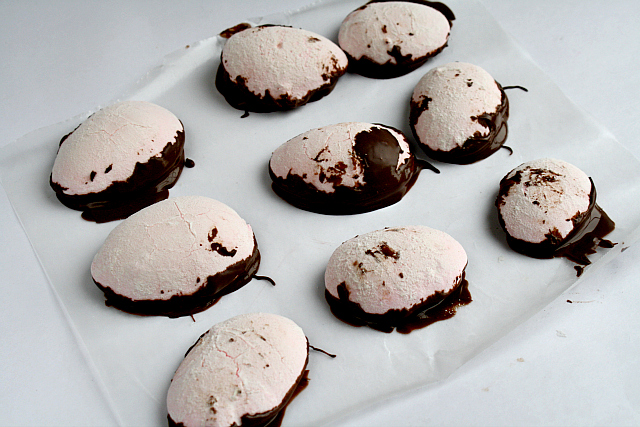 Once that chocolate has set (only takes a couple of minutes), you can dip the top in chocolate as well.  Make sure to place the bottom of the eggs (dry side) back on the waxed paper so that the tops stay smooth and rounded.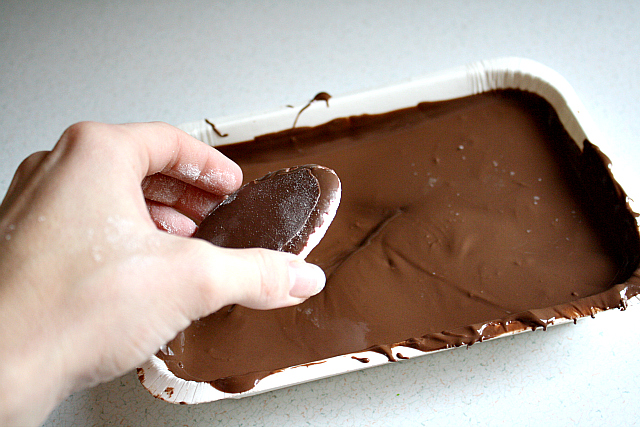 You can either eat the eggs just like that, or you can add some decorations to make them a little fancier. Either way, they are soooo delicious!  Enjoy!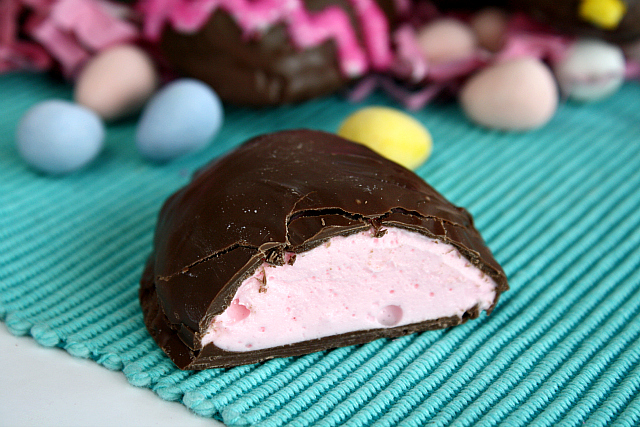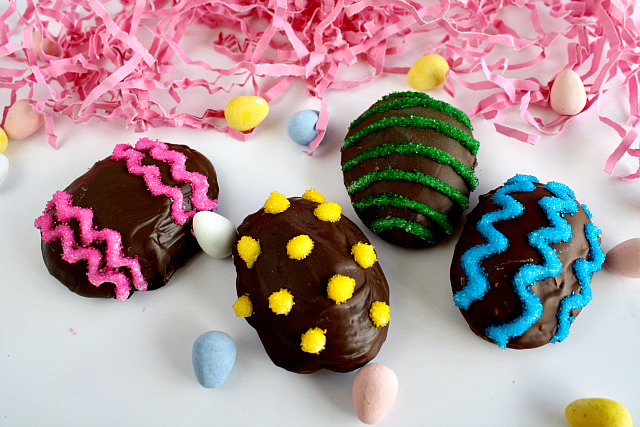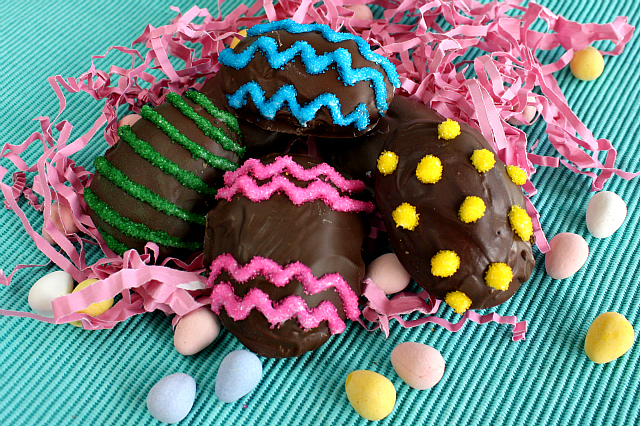 ---
Shredded wheat nests
Ingredients:
200g milk chocolate, broken into pieces
85g shredded wheat, crushed
2 x 100g bags mini chocolate eggs
Method:
Melt the chocolate in a small bowl placed over a pan of barely simmering water. Pour the chocolate over the shredded wheat and stir well to combine.
Spoon the chocolate wheat into 12 cupcake cases and press the back of a teaspoon in the centre to create a nest shape. Place 3 mini chocolate eggs on top of each nest. Chill the nests in the fridge for 2 hours until set.